eMarketer Podcast: Behind the Numbers

In this new podcast from eMarketer, analysts Bryan Yeager and Marcus Johnson sit down for a freewheeling discussion of key marketing and media trends. This week's topics include dads and the sharing economy.

Listen now.
China Embraces Cross-Border Ecommerce
Cross-border ecommerce is growing in popularity in China. In 2016, more than 15% of the population will make purchases from abroad worth $85.76 billion, according to eMarketer's first-ever estimates of the consumer trend. Read Article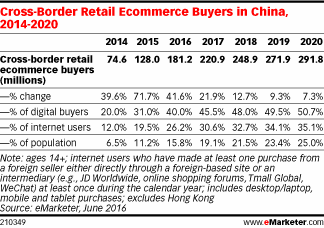 For corporate subscribers
For corporate subscribers
US Mobile Commerce Update 2016: Behind the Rapid Growth
Mcommerce in the US will continue to grow rapidly in 2016, propelled by smartphones with larger screens, smoother smartphone user interfaces, better mobile search and more effective use of context-driven discovery.